Discover more from News from Nettle Valley Farm
Updates from Nettle Valley Farm, a regenerative livestock farm in southeast Minnesota.
The piggos and goats are here!
And other farm news
It's been a huge couple weeks here: in addition to our flock of 40 laying hens, Nettle Valley is now home to 83 pastured piggos and 12 brush goats!
Before I go any further though, two housekeeping notes:
Only 10 of our 83 hogs are still available to reserve, so please let me know if we can provide you with a whole or half pastured hog this fall.

Spots are still available for our Half Hog Breakdown Demo on July 29th in Spring Grove! Tickets are sliding scale and if it's anything like our last demo, it'll be a porky delight.
Ok, onwards to the farm updates!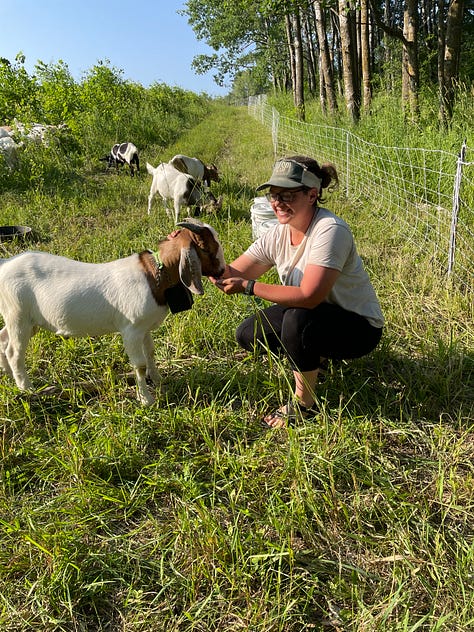 Goats!
We brought the goats home about two weeks ago and you guys… I'm in love. This group of bucklings (young uncastrated males) has captured my heart with their antics and voracious brush clearing. The NoFence collars that I wrote about in this previous post are working well and tomorrow the goats will be in their first fully virtual fence. EEP!
These guys will spend the summer and fall eating invasive species like buckthorn and honeysuckle as part of our "silvopasture by subtraction" efforts. (By subtraction meaning we are thinning overgrown, degraded woods to function as a silvopasture as opposed to planting trees into open pasture or cropland.)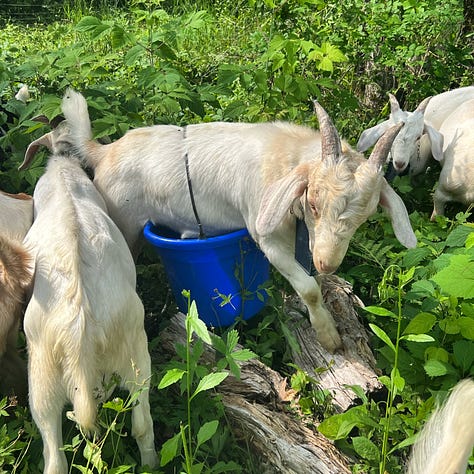 ---
Piggos!
Tomorrow marks a full week with the piggos on the farm and we're in awe of the wide variety of colors, patterns, shapes and sizes of the pigs this year. The multi-way crosses of Duroc, Hampshire, Yorkshire, and Spotted breeds mean we've got spots and stripes and speckles. Check out some sprinkler zoomies in the area of the barn we call the "lobby":
Yesterday we started training them to the electric fence so soon they'll be out nommin' acres of clovers, soft grasses, chicory, millet, grazing kale, sunflowers and more that are surprisingly lush given the drought.
---
Azzam!
In other farm news, we welcomed our Savanna Institute Apprentice Azzam to the farm! He's been a fantastic addition to the team and we're so glad he chose our farm for his agroforestry apprenticeship. Here's Azzam caging up some oak trees we planted in our valley:
I think that's all I've got for now. Best to you all!
Dayna